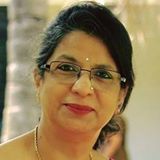 Prof. Mala Sinha
Retd. Professor
Faculty of Management Studies (FMS), University of Delhi
Speaker's Profile
Mala Sinha is a Retired Professor of Business Ethics and Communication at Faculty of Management Studies (FMS), University of Delhi. She has published extensively in the area of Indian cultural values, organizational behavior and corporate communication strategies. Her research interests are demystifying Eastern scriptural philosophies, especially Vedanta thought and the epics - Mahabharata and Ramayana; and see their relevance in context of leadership and human wellbeing.
She was a case analyst for Business World for several years and many of her case analyses have been republished in Special Collector's Editions of Selected Case Studies by the publisher. Mala Sinha has coauthored books on Life Skills Education for CBSE and has conducted Values Education Camps for school children.
A successful corporate trainer and consultant Prof Sinha has worked with several public sector and multinational organizations; and has facilitated workshops for World Bank, WHO and Confederation of Indian Industries (CII). Prof Sinha is widely travelled having presented papers in international conferences and was recently at Harvard Business School to participate in Global Colloquium on Participant Centered Learning. Presently she is closely associated with the Women Empowerment program at Akhand Jyoti Eye Hospital – one of the largest eye hospitals in India, which is dedicated to the vision of eradicating curable blindness in Bihar.
Mala Sinha is also a published poet, writes short stories, and paints.